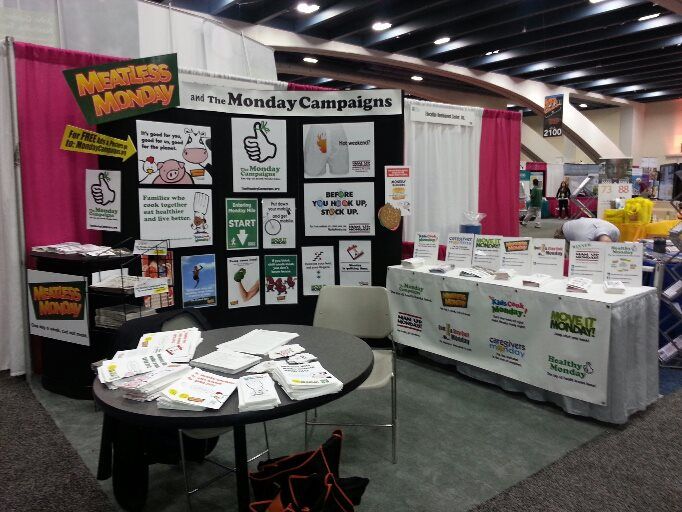 Meatless Monday and The Monday Campaigns were in attendance at the American Public Health Association's (APHA) Annual Meeting and Exposition. From October 27-31, the team was on hand in San Francisco to share the benefits of Monday messages in public health promotion.
Now in its 140th year, APHA's annual meeting is the oldest and largest gathering of public health professionals in the world. The theme for this year's meeting, Prevention and Wellness Across the Life Span, covered community health programs, public policy, prevention awareness campaigns and the impact of environment on well being.
The Monday Campaigns presented at several sessions during the meeting, discussing the importance of effective preventative health messaging. Meatless Monday's founder, Sid Lerner, said it best in his recent speech at the James Beard Foundation Food Conference:
"There is effectiveness taking place [with Meatless Monday]. You can talk to the public in a reasonable, marketing-oriented way that we haven't been doing up until now. There is [the belief] that we don't have to do the tawdry things they do to sell hot dogs and colas. No, you do. You have to start reducing… the research that's out there; putting it into the best utilization of contemporary media that the people who sell the soft drinks, the fatty foods, the cigarettes, the liquor, use."
This strategy has been recognized by the experts as APHA as well: The Monday Campaigns' latest project, Man Up Monday, received this year's PHEHP Public Health Education Materials Contest Award for the print materials category. The Meatless Monday team also encouraged public health professionals to embrace exciting marketing ideas by asking them to share their favorite Monday Burger recipes and sign up for our free e-cookbook.